How are sleepy Democrats going to deal with this?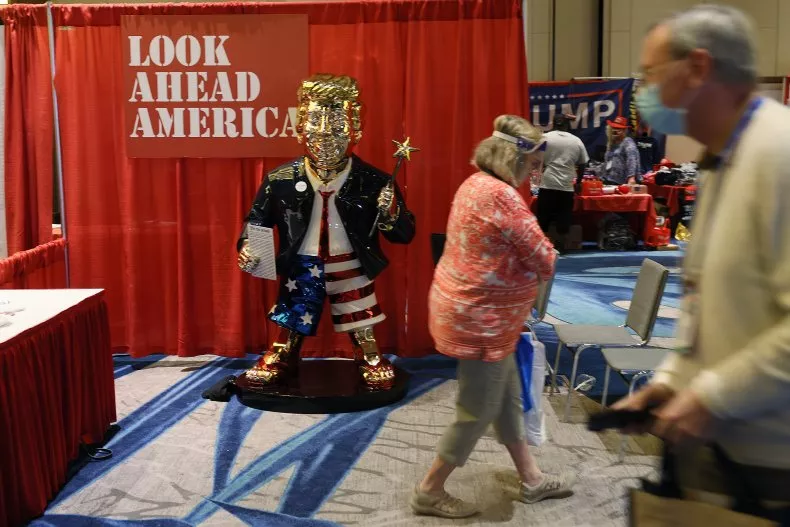 The Brennan Center for Justice is a nonpartisan law and policy institute.
We strive to uphold the values of democracy. We stand for equal justice and the rule of law. We work to craft and advance reforms that will make American democracy work, for all.
<blockquote><a href="https://www.brennancenter.org/our-work/research-reports/voting-laws-roundup-february-2021">https://www.brennancenter.org/our-work/research-reports/voting-laws-roundup-february-2021</a>

&nbsp;

The 2021 legislative sessions have begun in all but three states, and state lawmakers have introduced hundreds of bills aimed at election procedures and voter access — vastly exceeding the number of voting bills introduced by roughly this time last year.

In a backlash to historic voter turnout in the 2020 general election, and grounded in a rash of baseless and racist allegations of voter fraud and election irregularities, legislators have introduced well over four times the number of bills to restrict voting access as compared to roughly this time last year. Thirty-three states have introduced, prefiled, or carried over 165 restrictive bills this year (as compared to 35 such bills in fifteen states on February 3, 2020). ...</blockquote>
I wouldn't be surprised if their stuffing judges was purposely in support of this kind of stuff.
I read a good article about how that Trump Golden Calf is a perfect metaphor for what they've become. And it's really on a par with the rest of the cons hypocrisy. They're so religious, probably ignorant of their own religion, and don't even realize they're literally worshipping a golden calf. God no likey likey.
I read a good article about how that Trump Golden Calf is a perfect metaphor for what they've become.
When I first heard about it, I thought it was just a figure of speech for something. Not literally.
What's even better turns out to be Mexico's unofficial inside joke.
Golden Trump statue turning heads at CPAC was made in … Mexico

Artist Tommy Zegan reveals figure was constructed in country the former president has assailed and demonized

Now the artist behind the huge statue of Trump – Tommy Zegan – has revealed that the object was made in Mexico; a country that has been the target of much Trump racist abuse over his political career, and somewhere he has literally sought to build a wall against.

"It was made in Mexico," Zegan told Politico's Playbook newsletter. Zegan, who lives in Mexico on a permanent resident visa, described the transport of the monument to CPAC in full to Playbook.

Politico reported: "Zegan spent over six months crafting the 200lb fiberglass statue with the help of three men in Rosarito. He transported it to Tampa, Florida, where it was painted in chrome, then hauled it from there to CPAC."
The artist, a devout christian, wouldn't you know it. And he doesn't even get his own joke. Really. Sure looks like a golden effigy to a god-like figure, who's actually a fraud.
 

WashingtonTimes _com/news/2021/feb/28/tommy-zegan-says-golden-trump-sculpture-not-idol/

 

… "This is not an idol," said Mr. Zegan, the son of missionaries and a former youth pastor and graduate of the Moody Bible Institute in Chicago who now works as an artist with a studio in Rosarito Beach, Mexico.

"Nobody is worshipping this. Nobody is making sacrifices to it. This is a sculpture and liberals don't know the difference between a sculpture and an idol," he said. "That's all I can say." …

 
Next will come the velvet paintings
Too late, step right up
Okay enough fun and games.
Brian Tyler Cohen
No Lie podcast episode 42: Dangerous voter suppression bills are sprouting up across the country, and eliminating the filibuster is the way to fix it.
For what it's worth:
 

John Roberts has another chance to diminish the Voting Rights Act

By Joan Biskupic, CNN legal analyst & Supreme Court biographer

Updated 9:38 PM ET, Tue March 2, 2021

(CNN)Chief Justice John Roberts has singlehandedly slowed a conservative revolution at the Supreme Court in recent years, but he has for even longer – 40 years – opposed racial remedies and narrowly construed the landmark Voting Rights Act.
During oral arguments Tuesday in an Arizona voting rights case with national implications, Roberts sounded ready to hew to that latter path. The court's ruling could diminish the ability of Native American, Latino and Black voters to claim discrimination under the 1965 law.
In 2013, Roberts led a narrow high court majority to eliminate separate Voting Rights Act coverage related to states with a history of bias. They no longer are required to obtain federal approval for new voting districts, poll closings or other electoral change – which prompted some states to enact new voter ID requirements and polling changes.

 

Tuesday's case, tied to a section of the law covering claims of intentional discrimination once a regulation is in place, could have greater repercussions arising as several states consider new voter restrictions, some based on lingering and unproven allegations of fraud from the 2020 election.

 
https:// thehill _com/regulation/court-battles/541214-gop-lawyer-tells-supreme-court-curtailing-sunday-voting-lawful

GOP lawyer tells Supreme Court curtailing Sunday voting lawful
BY MARTY JOHNSON - 03/02/21
Katyal: GOP Lawyer During SCTOUS Hearing 'Tried To Nullify The Voting Rights Act' | The Last Word
Here's some interesting background.
Where Republicans in Congress stand on Trump's false claim of winning the election By Washington Post Staff - December 15, 2020

https://www.washingtonpost.com/graphics/2020/politics/congress-republicans-trump-election-claims/

 

More than 200 Republicans have declined to take a stand on Joe Biden's election as the 46th president as President Trump perpetuates falsehoods about widespread voter fraud and a rigged election.

The Washington Post surveyed all 249 Republicans in the House and Senate beginning the morning after Trump posted a 46-minute video in which he wrongly claimed he had defeated Biden and leveled wild and unsubstantiated allegations of "corrupt forces" who stole the outcome from the sitting president. Attorney General William P. Barr said the Justice Department found no evidence to overturn the election results.

A team of 25 Post reporters contacted aides for every Republican by email and phone asking three basic questions:

Who won the election?

Joe Biden… 37 - Trump, the Donald… 2 - Unclear/No answer… 208, mealy mouth delusional Republican Representative and Senators (not including the cowards who dodged the survey altogether.

Do you support or oppose Donald Trump's continuing efforts to claim victory?

Oppose… 10 - Support… 129 - Unclear/No answer… 108

If Joe Biden wins a majority in the Electoral College, will you accept him as the legitimately elected president of the United States?See lawmaker responses

YES… 41 - NO… 2 - Unclear/No answer… 204
Man would our Founding Father be disgusted by the pathetic, brains on a holiday, ciphers that inhabit our Halls of Congress these days.
And if the Democrats don't step it up and clean up their own act and start reaching out to better inform and engage their constituents, these thoughtless sheople will win the battle and the "oligarchs" decades long carefully laid plan for their HOSTILE CORPORATE TAKE-OVER of our government will be complete. While Americans were busying watching their favorite BoobTubes, or being bewitched by preachers of fraud and hatred and ultimate destruction.
The Republican's base mean-spirited malicious totalitarian mentality is unbelievable -
but it's there for everyone to see and ignore, and still most of the nation seems to sleep.
Wasn't a sense of Fair Play once ingrained in Americans.
"Misdemeanor to give food or water to voters waiting in line"
WTF does that have to do with voting?
Well I imagine it has to do with Republican so-n-so's shutting down polling place where they don 't want people voting, forcing those who do want to vote to ridiculously long long line. Apparently some nice people have started providing sustenance like water and snacks to make the wait more humane. Now, Republican want to make aid and comfort illegal - and these *%#! call themselves Christians.
It points to the base mean-spirited nastiness, if not viciousness of Evangelical Republicans, and they complain about liberals.
But what do I know?
Why long lines at polling places are a voting rights issue Polling places are disappearing in blue states as well as red. It's a quiet form of voter suppression.

By Anna North Nov 6, 2018, 4:10pm EST

https://www.vox.com/2018/11/6/18068506/midterm-election-voting-lines-new-york-georgia

 

But voting difficulties here are emblematic of a nationwide problem: Polling places around the country have been quietly disappearing for years, especially in areas with a high percentage of voters of color.

… "You're seeing a pattern of polling place consolidations in cities and counties around the country," John Powers, who serves as counsel in the Voting Rights Project at the Lawyers' Committee for Civil Rights Under Law, told Vox.

In some places, that consolidation is the result of active efforts to depress turnout, but in others, it's the result of budget cuts and an unwillingness by city and county governments to invest in making sure people can vote. Whatever the cause, the result is the same: Poor people and people of color have fewer opportunities to cast a ballot. …
www _nytimes.com/2016/11/09/upshot/why-long-voting-lines-today-could-have-long-term-consequences_html
Somebody needs to wake people up.
I came across this interesting information site, so share this as a PSA.
The United States Elections Project

The United States Elections Project is an information source for the United States electoral system. The mission of the project is to provide timely and accurate election statistics, electoral laws, research reports, and other useful information regarding the United States electoral system. By providing this information, the project seeks to inform the people of the United States on how their electoral system works, how it may be improved, and how they can participate in it.
Just saw this:
The political organization founded by NBA superstar LeBron James and a host of other Black athletes and artists will kick off its post-2020 work with a focus on the wave of Republican-backed legislation aimed at restricting voter access in the wake of the latest presidential election. More Than A Vote will use the 2021 NBA All-Star Game in Atlanta to draw attention to recent efforts by Republican lawmakers in Georgia to make it harder for people to vote by pushing for restrictive election laws. The group is kicking off a campaign named Protect Our Power, which, in addition to fighting these laws in states across the country, will look to mobilize Black voters in off-year and municipal elections.
Good to see LeBron has been able to keep a sensible head on his shoulders.
Early on it seemed a little shaky.
President Joe Biden signed an executive order Sunday expanding voting access in what the White House calls "an initial step" in its efforts to "protect the right to vote and ensure all eligible citizens can freely participate in the electoral process."
The House has also passed a bill on election reforms. It still has to go to the Senate for the obstructionists to try and stop.
"There's a fundamental difference between Democrats and Republicans," Kavanagh (R-AZ) said. "Democrats value as many people as possible voting, and they're willing to risk fraud. Republicans are more concerned about fraud, so we don't mind putting security measures in that won't let everybody vote -- but everybody shouldn't be voting."
https://www.cnn.com/2021/03/11/politics/arizona-republicans-voter-suppression-bills/index.html
To state again: Democrats value as many people as possible voting,
Isn't that the idea behind DEMOCRACY?
(yes, I know the US is not a by-the-book "Democracy")